The Keepers are Restoring the Tower to What It Was
Keeper Kilton at the Fog Bell (1948)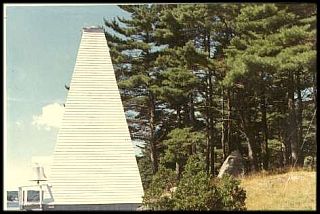 Last known photo of the tower with bell (1970)
---
The need for a fog signal was identified,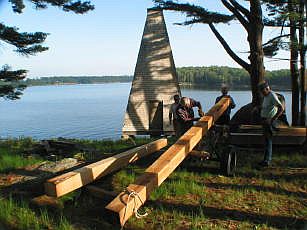 following the grounding of the Boston-Bath steamer Ransom B. Fuller in 1912, to alert ships of the dangerous double bend in the river at Fiddler's Reach and Doubling Point during periods of low visibilty. A site was selected at a prominent point on the Kennebec about 1100 feet upstream from the Kennebec River Range Lights Keeper's Residence on ledgerock at the water's edge. A small parcel of land, about 1/5 acre, with footpath right of way from the residence along the shore of the river was purchased from the farmer Samuel Freeman in 1913.
Unfortunately, unlike the Range Lights, which have been well maintained as active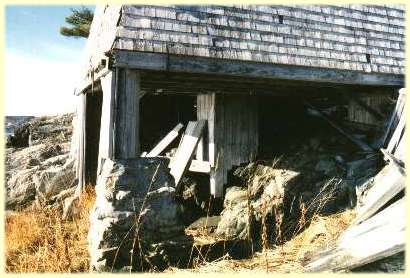 navigation aids, the Fog Signal, having been abandoned some years ago, has deteriorated. The Range Light Keepers began the preservation project in 1998 by weatherproofing the building and stabilizing the structure.
Since then, interest in restoring the bell tower has grown. Recognizing the importance of saving this historic structure, the community has supported our efforts to rebuild it. Residents, skilled volunteers and local businesses have made generous donations to this project. Together with a modest matching grant from the Maine Historic Preservation Commission through the New Century Community Program, a statewide cultural initiative funded by the people of Maine, we have begun the restoration.
Once the important structural repairs are made, we will turn our attention to the exterior details. We are very excited to begin this phase of the project because we can easily visualize the elegant and classic form of the bell tower perched on its granite outcrop with the impressive bell hanging over the swift current. We will then replace the cedar shingles so that the stark white form sits in sharp contrast to the dark green pines that loom above it. The view from the river on a warm summer day will once again be a fine sight.
Our final goal is to restore the bell striker apparatus and clockwork in order to be a complete demonstration of a mechanical fog signal. It will serve as an additional river attraction for many visitors to enjoy on the Kennebec River. Please consider making a donation today so that we may continue this worthwhile project.
---

The Ransom B. Fuller on the Rocks, 1912
Courtesy of Margaret Bertocci